Darren Chaplin
Darren Chaplin is a 40 year old Age Group Duathlete, a father of two and postman and ex policeman, from Basildon, Essex.
---
Darren took up running in 2009 to lose weight at 19st 7lbs and get fit to ensure he could enjoy activities with his two young Children. Now a member of the East Essex Tri Club and Flyers Southend, he took up Duathlon (run, bike, run) a couple of years ago to see if he could complete the event for Charity and this year competed in the European and World Sprint Championship Qualifiers, just missing out on the World Championships by 25 seconds!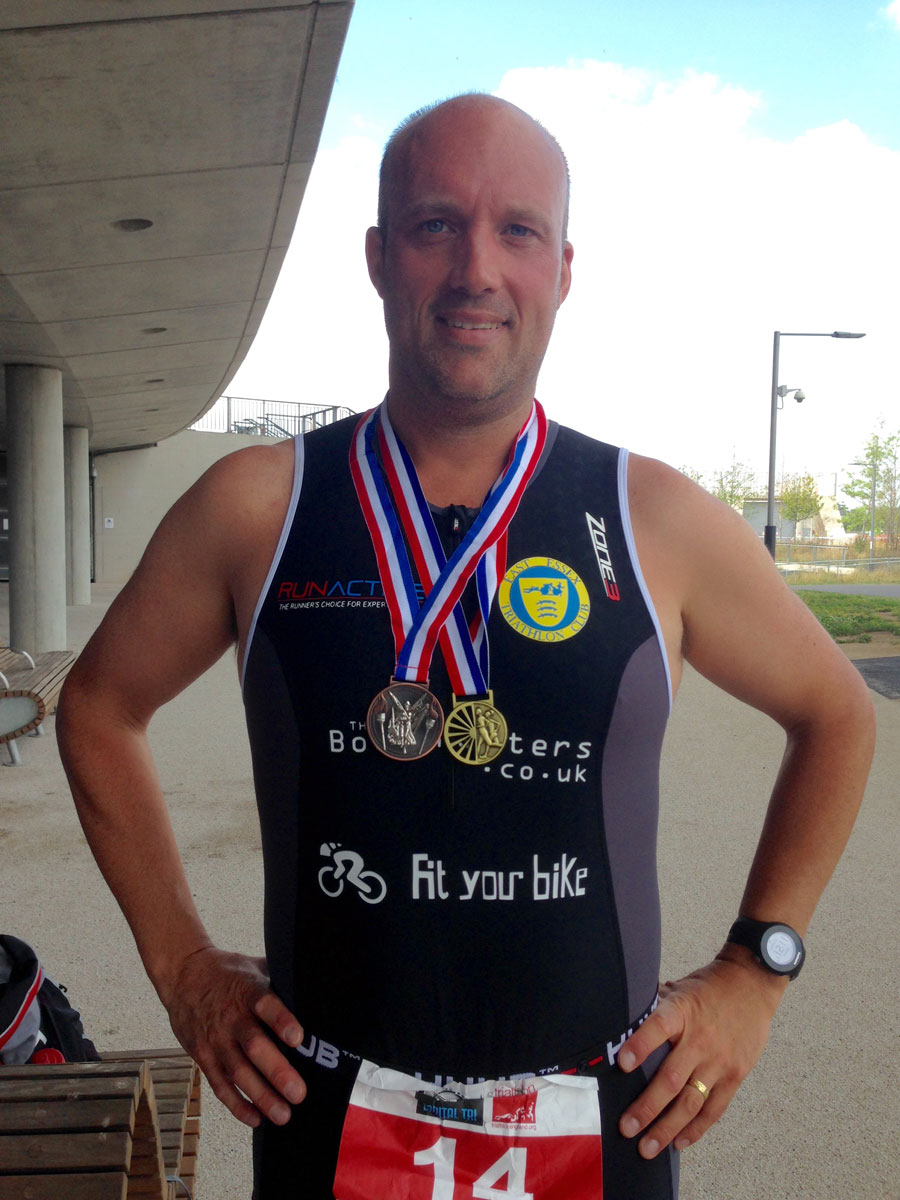 Having run marathons In Dublin, Barcelona, Rome and Berlin Darren has a Marathon PB of 3:32 hrs
Darren races against other GB Age Groupers in the 40-44 category in Sprint Duathlon 5km run, 20km bike 5 km run all across the country and is currently being coached by a GB Team Manage. In January this year He was awarded the Erdinger Alkoholfrei Athlete of the Month Award by Tri247.com and is now shortlisted for Athlete of the Year. He has come a long way from his Office Desk job and his determination and hard work and attitude to training and personal development that has seen him loose over 4 stone and feature in the top 20 in his Age Group in his Sport.
Darren regularly races at the Olympic Velopark amongst top class Duathletes and his next race is the London Duathlon at Richmond park 20th Sept. He is currently coached by Barron Mendelssohn and his current focus is the 2016 European Long Distance Duathlon Championships to be held in Copenhagen on 8th May.
British Triathlon's Great Britain Team section is about getting involved in Elite triathlon and representing Great Britain at major championships. This includes the Great Britain Elite Team, Great Britain Age-Group Team and Great Britain Para-Triathlon Team.
The Great Britain Age-Group competition offers all Home Nation (England, Wales or Scotland), members a unique opportunity to compete at International Level in Triathlon, Duathlon, Aquathlon, winter and cross Triathlon. Age-Group Triathlon is the non-elite format of the sport is known as Age-Group competition.
Age-Group allows athletes to compete for European and World Championships medals and titles against fellow competitors within pre-defined age-group categories. These age-group categories are divided by gender and age and are set apart by five year age bands, from 20-24 upwards to 80+.
If you make the team, you can be proud to represent Great Britain and enjoy the experience of racing at an International Triathlon Union (ITU) World Championship or European Triathlon Union (ETU) European Championship.
Darren is currently registered for the Team in the 40-45 Age Group for the 2016 European Long Distance Championships in Copenhagen in May 2016.
British Triathlon has recently announced the Age Group Major Championship race calendar for 2016. Click here for further information on the Age Group Teams and major Championships.
You can keep up-to-date with Darren's racing, training and food blog here: https://agegroupduathlete.wordpress.com/