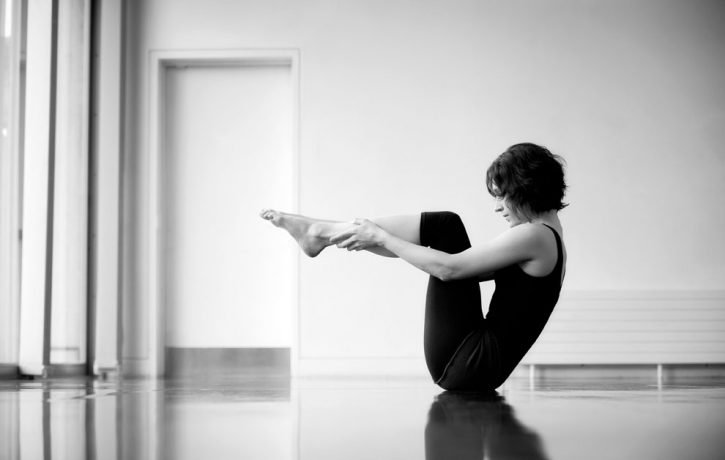 You know, when you go to the gym and you go onto one of the exercise machines and then watch the tv or fiddle with your phone? I have even seen people read books while on the treadmill or leg curl machine. Its kind of impressive!
Personally however I would always rather spend the time focusing on my physical and mental experience while I am asking my body to perform some demanding activity. But then I am a Pilates Practitioner and centering and concentration are two of our Pilates principles. But it is not just about principles. Research has shown that those who engage mentally with their physical rehabilitation are more likely to gain better results than those, who rely on others to "fix" them. Other research has also shown that those who engage with their body in this way are less likely to develop psychosomatic pain, anxiety, depression, trauma and eating disorders.
The students of Joseph Pilates formed 6 principles that should be at the basis of all Pilates practice: Centering, Concentration, Control, Precision, Breath and Flow.
When we practice Pilates we are really quite busy sensing what ever we can about the experience of what ever the movement is, because sensing with our body and our mind means gathering information about how we are doing with the challenge. And knowledge is power. It means we can make deliberate, subtle changes to how we approach a movement challenge. We can try a slightly different strategy and it may make a huge difference to the effort that we have to apply to a push up for example. Without centering and concentration we will miss everything our body is telling us about what it is doing and experiencing and we are no better than a couple that no longer listens to one another. We end up living past each other and then wonder why our body gets hurt.
Try this next time you do a push up, or a squat, or even when you are doing your next run: Feel the contact you make with the ground. Notice the balance going through your entire body. Is one leg or one arm carrying more weight than the other? Does the rhythm of your movements communicate with the rhythm of your breath in some way? How does each body part feel during the movement? Is there tension somewhere, where it is not useful?
If you have gathered information about all of the above you probably have been centering and concentrating. What have you learned about yourself? And what are you going to do differently next time? Congratulations, if you are finding answers to these questions you are on your journey to more efficient, healthy movement ability and a stronger connection between your body and your mind.
If you would like to experience Pilates in a 1-1 session or as a group class contact Kristin at The Body Matters on 01702 714968.
Latest posts by Kristin Loeer
(see all)