We provide treatment for back pain, neck pain and shoulder pain in Southend-on-Sea, Essex at The Body Matters. Treatment for these is available from our clinic based in Leigh-on-Sea, in Southend-on-Sea, Essex. We also offer telephone & online support and remote consultations.
---
These regions of the body are probably the most common pain presentations we see in the clinic, therefore they have become quite a speciality for the therapists at The Body Matters.
What Causes Back, Neck & Shoulder Pain?
Anyone can develop back, neck or shoulder pain. There is a broad range of medical reasons to experience pain in the back neck or shoulder as well as an even broader range of lifestyle factors that could be contributing to the overall suffering.
Most back pain, neck pain and shoulder pain will manifest as a result of straining a muscle or ligament caused by heavy lifting and overexertion, awkward movement and incorrect posture or a sports injury. However, these types of pain can also be caused by an underlying health condition such as arthritis, musculoskeletal irregularities or osteoporosis.
What Treatment is Available for Back, Neck & Shoulder Pain?
Evidence has identified active strategies that encourage self-confidence in moving, regular exercise and stress management as the most appropriate treatment for lower back pain. Also, developing appropriate and healthy attitudes about our backs through education is one of the most important aspects of treating and managing low back pain.
Osteopathy can help by restoring mobility to stiff joints and reducing muscle tension in order to return the patient to more natural movement, without pain. Thus, your Osteopath provides back pain relief for both patients with chronic back pain involving joint problems, such as sacroiliac joint dysfunction; and acute back pain from soft tissue injuries such as a muscle strain or a ligament sprain.
How Long Does Back, Neck or Shoulder Pain Last?
Having a full assessment of your back, neck, or shoulders to rule out any concerning pathology is important to put one's mind at rest and to get appropriate advice on what activities you should or shouldn't be doing is imperative to avoid the risk of an episode of lower back pain becoming more prolonged than it needs to be.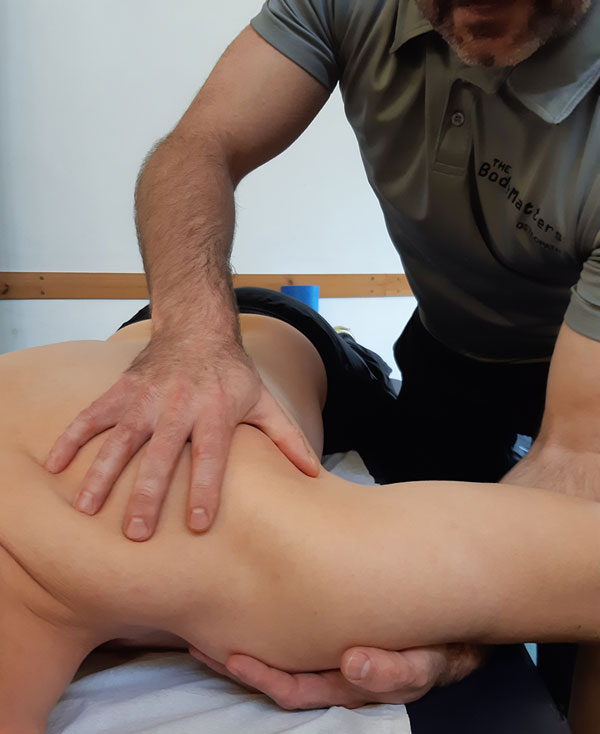 The priority for our therapists as with any such presentation is to identify a rational explanation for the sensitivity in order to offer an accurate diagnosis, if appropriate, and therefore accurate prognosis so you know what to expect for your recovery.
Where appropriate, should conservative management of the pain not be successful, we can refer you for imaging, but this would be a discussion for between you and your therapist.
If you are struggling with back or neck pain and want advice on how to better manage your pain and even learn how to improve things where other interventions haven't helped, then get in touch with The Body Matters team to see if we can help.
We are open with safe distancing and hygiene measures in place
The Body Matters clinic is currently open, by appointment only, with safe distancing and hygiene measures in place. We would love for you to continue using our services during this period.
Remote consultations also available
We continue to offer remote consultations (if required) to provide our services without physical interaction.
Read our COVID-19 update for more information.
---
Call The Body Matters on 01702 714968 for more information about treatments for back pain Southend, neck pain and shoulder pain in Leigh-on-Sea and Southend-on-Sea, Essex.