Physiotherapy in Southend-on-Sea for a wide range of conditions at The Body Matters. Physiotherapy treatments are available from our clinic based in Leigh-on-Sea, Essex. We also provide telephone & online support and remote consultations.
---
What is Physiotherapy?
In physiotherapy, physiotherapists are trained to high standards in order to properly assess and diagnose your condition, treating your issues so that you are able to reach your full potential and to carry on maintaining an active lifestyle.
Physiotherapists work in both the rehabilitation of musculoskeletal injuries and cardiac respiratory conditions. They will often use a variety of prescribed exercises that the patient can carry on with at home. As a result, physio treatments will tend to be quite specific. Physiotherapists are also likely to use machines such as ultrasound or TENS machines to facilitate change in an injured area.
What to Expect from Physiotherapy at The Body Matters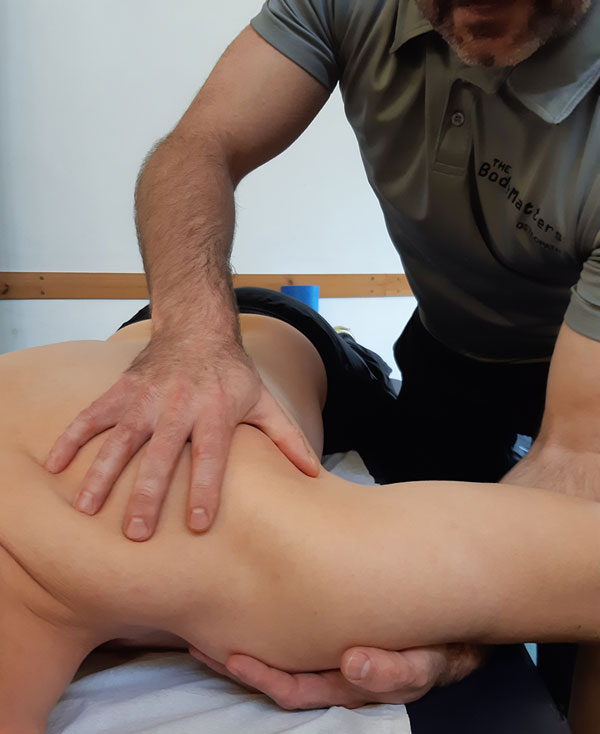 During the initial physiotherapy session, you will be assessed to help locate the source of your problem. Once assessed, and the problem has been identified the Chartered Physiotherapist may use any one of a variety of techniques to aid your recovery, thereby helping your muscles and joints work to their full potential.
This may also help repair any damage by speeding up the healing process and reducing the pain and stiffness. Physiotherapy techniques may include manipulation and mobilisation, massage therapies, hydrotherapy, exercise programs, ultrasound and sometimes acupuncture.
Identifying the possible factors that have contributed to your problem in the first place is important in attaining your goal of returning to full fitness. These may be such things as poor posture, improper techniques, muscle imbalances, poor working practices, or other bad habits. This will help prevent the risk of the same thing happening again in the future.
Setting goals during rehabilitation is key for the client to stay positive and motivated. If there are no solid timeframes it can feel much longer to the client, and therefore demoralising. When the negative feelings begin to linger, so does the will to participate in rehabilitation.
Physiotherapy & Sports Injuries
The Chartered Physiotherapists at The Body Matters know and understand the need and desire for sporting clients to get back to the sport as soon as is appropriate. Therefore we will provide a rehabilitation program, if required and advice on how to prevent a recurrence of the injury.
Whatever your problem it is important that you follow the aftercare advice, exercise, mobility and stretching advice if given as this will aid your recovery, and help prevent the problem returning.
Physiotherapy can help with the following:
Physiotherapy FAQs
Does physiotherapy hurt?
There may be some level of discomfort during your physiotherapy treatment but this should be tolerable. Your physiotherapist will be able to explain what to expect.
What should I wear for my physiotherapy session?
You should wear loose and comfortable clothing for your physiotherapy session, such as a t-shirt and shorts or a tracksuit. It is important that you are able to move around easily.
Do I need to see my doctor before booking a physiotherapy session?
If you are paying for your own physiotherapy treatment you do not need a doctor's referral. However, if you are using private insurance then you should check your insurer's requirements first. Find out more.
We are open with safe distancing and hygiene measures in place
The Body Matters clinic is currently open, by appointment only, with safe distancing and hygiene measures in place. We would love for you to continue using our services during this period.
Remote consultations also available
We continue to offer remote consultations (if required) to provide our services without physical interaction.
Read our COVID-19 update for more information.
---
Call 01702 714968 for more information about physiotherapy in Southend-on-Sea & Leigh-on-Sea, Essex at The Body Matters.