Do you have back, neck or shoulder pain? Do you have a sports injury? Are you experiencing an emotional blockage that is holding you back from reaching your full potential?
Please also see Massage Therapies, Physiotherapy and Osteopathy.
---
Sports Injury Assessment and Treatment
At The Body Matters sports injury clinic, located in Southend-on-Sea in Essex, we have a team of highly qualified and experienced therapists that are ideally suited to treat a Sports Injury.
The team includes a sports massage therapist, an osteopath and a sports therapist.
Injuries we treat range in every sport possible from running, cycling and swimming to mixed martial arts (MMA), golf, tennis, dancing and weight lifting and many more.
Our Essex-based therapists have a vast background of experience within different sporting industries, which continues to grow.
---
Typical injuries we have treated include:
Adhesive Capsulitis / Frozen shoulder (although technically not a sports injury)
Common Tendinopathy Sites such as Achilles Tendonitis
Subacromial Impingement syndrome
Sprained ankles
Fractured bones (rehabilitation after a certain amount of time spent healing)
Stress Fracture
The Body Matters Sports Injury Clinic Essex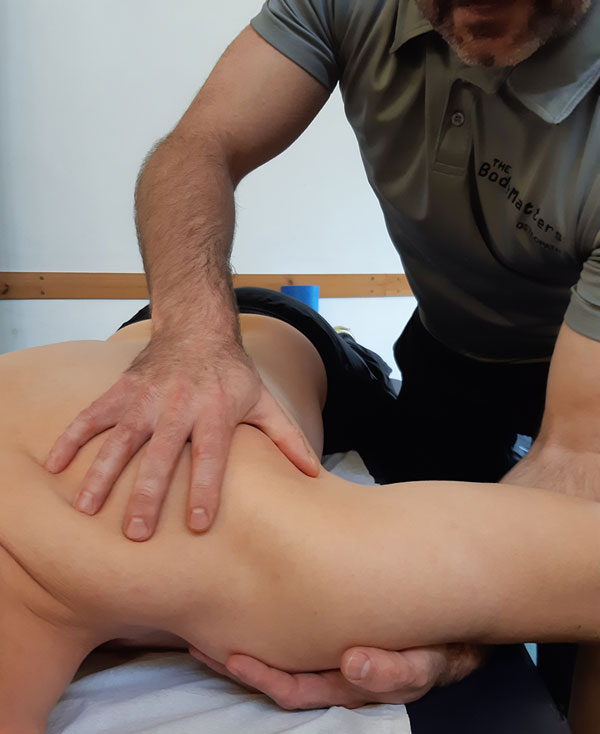 To correctly diagnose the problem, we may ask questions including; the nature of the injury, how severe the pain is, how it was caused, plus more. Once the detective work is complete, we can begin fixing the problem in whichever way the therapist deems the most effective. A prognosis of the injury can be given towards the end of the session once the therapist knows the severity of the injury, and can give you a more accurate timeframe of recovery time.
Following treatment, you will be given some 'take-home' advice on how to care for the injury. This advice will complement the treatment methods and help to bring the injury back to full strength.
It can be as small as the P.O.L.I.C.E principals (Protection, Optimal Loading, Ice, Compression, Elevation), to a little more in-depth such as multiple sets of exercises to be followed on a daily basis, targeting the site of pain. Where you are in the 'healing process' will depend on what is advised to you.
---
Who is best suited to treat my sports injury?
We advise that you call to speak to one of the team, as each injury and person is different.
Please also see the sports massage, physiotherapy and osteopathy pages of our website.
---
I'm injured, when is the best time to get treatment?
The best advice we can give is (again) to call to speak to one of our team. Each injury is different; hence it is difficult for us to give a definite answer without talking to you first.
However, if the injury has led to swelling and bruising, it may be best for that to calm before having any therapy. If there is no bruising but the site is very tender, it may be worth booking in with a therapist to have an assessment and find out exactly what's happened. If treatment is possible at this time the therapist will do what they can.
---
What is the difference between a Sports therapist and a sports massage therapist?
A Sports Therapist is qualified to degree level and has been trained in the best methods to get you back to full fitness using many different methods and programmes of treatment. Their aim is to resolve your specific problem and to help you to understand how to prevent a reoccurrence. Sports Therapy looks at an injury in detail and is quite specific in treatment.
A Sports massage therapist works with massage as the main principle of treatment, not just for athletes but for various types of individuals in all walks of life. Sports massage is effective for treatment in depression and stress as well as anatomical issues, such as poor posture.
Both types of treatment, however, are a great option to have regularly in your lifestyle, for a variety of reasons. Massage is a wonderful way to keep tensions at bay from life difficulties such as a stressful career, or a busy home life.
Sports therapy would be a great regular treatment in keeping injury at bay. If, for example, you have previously suffered from knee pain during running, keeping regular sessions can help prevent it from returning.
Regular massage can help to optimise your sports performance whatever your ability and sporting aim.
---
I'm injured, why would I see an Osteopath?
If your injury is nerve-related then an Osteopath is your ideal therapist. A Sports Therapist or Sports Massage therapist has not been specifically trained in this complex area. However, Osteopaths are also more than equipped to treat any type of injury sports-related or not. Please refer to the Osteopath page.
---
What might a sports injury therapy treatment involve?
The type of treatment depends on the injury, for example, a treatment for a muscular strain is somewhat different from a twisted ankle joint.
An example of the treatments we may adopt in any one session:
Massage - Helping with aching muscles and spasms
Trigger Point Therapy
Myofascial Release - fascial tissue which surrounds muscle can cause tension and a reduced range of movement.
Hot and Cold Therapy
Mobilisation – this can be a key treatment with regard to joint dysfunction. The therapist will passively move a joint in multiple planes and angles, as well as using mobilisation techniques such as the Maitland technique, or mobilisation with movement (MWM's)
Rehabilitation – This depends on where you are in the healing stage. The therapist may give you a detailed training plan to bring you back to full strength to help prevent it from happening again.
We are open with safe distancing and hygiene measures in place
The Body Matters clinic is currently open, by appointment only, with safe distancing and hygiene measures in place. We would love for you to continue using our services during this period.
Remote consultations also available
We continue to offer remote consultations (if required) to provide our services without physical interaction.
Read our COVID-19 update for more information.
---
Call 01702 714968 for more information or to book an appointment at The Body Matters sports injury clinic in Southend-on-Sea, Essex.