We offer medical acupuncture and dry needling in Southend-on-Sea and Leigh-on-Sea, Essex at The Body Matters. All of our acupuncture treatments are available from our acupuncture clinic in Leigh-on-Sea. Home visits are also available.
---
Medical Acupuncture at The Body Matters
Medical acupuncture is used to alleviate a wide range of symptoms, commonly including aches and pains in muscles, headaches and migraines, nausea and vomiting, menstrual cramps, depression and labour-related pains. It is used in many NHS GP practises, as well as in most pain clinics and hospices in the UK.
Medical Acupuncture & Dry Needling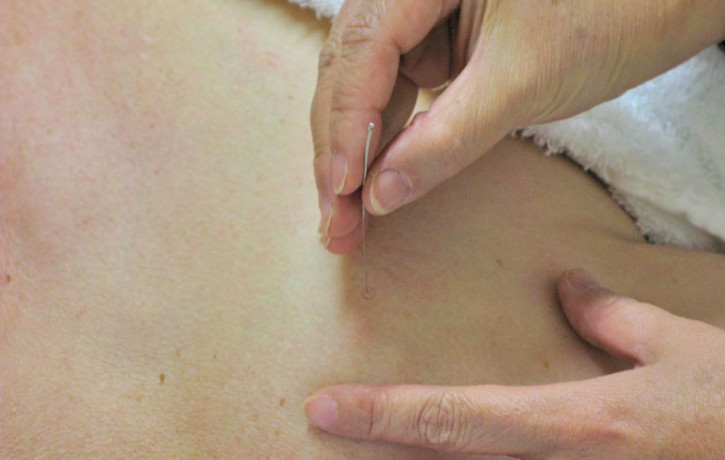 Dry needling is a treatment of inserting acupuncture needles into tender areas of the body but without the concept of following traditional meridian patterns of Chinese acupuncture.
Dry needling is relatively easy to learn for qualified healthcare providers, which may include manual physical therapists, physicians, dentists and Osteopaths. However, a full education in anatomy, physiology, musculoskeletal diagnosis and pain sciences are fundamental to giving effective treatment.
Treatment is effective for a multitude of painful conditions and in a majority of regions of the body by identifying myofascial trigger points. Any complications are avoided by knowing the local anatomy, and by careful identification of the anatomical landmarks relevant to the muscle that is to be needled.
A needle using the dry needling method, are generally left in place for as little as 10-20 seconds. Dry needling can be used as a stand-alone treatment or as an adjunct to other hands-on techniques. It can be used effectively when pain and sensitivity to touch and mobilisation are too great for a patient to tolerate and as such needling beforehand can allow for firmer hands-on techniques to be performed with a reduced amount of discomfort.
Although the basic description of medical acupuncture is inserting needles into tender and painful parts of the body, it does follow some specific protocols that may mean treating away from the primary region of pain.
---
The WHO (World Health Organisation) identifies over 40 conditions acupuncture can successfully treat.
Acupuncture Can Help with the Following:
There are a number of reasons you may not be able to have any form of acupuncture. The most common is having a needle phobia. If you have a phobia then you are likely not to relax during treatment, have a heightened sensitivity to pain, and therefore have the opposite effect hoped for.
Please contact us to discuss if acupuncture is the best treatment for you.
We are open with safe distancing and hygiene measures in place
The Body Matters clinic is currently open, by appointment only, with safe distancing and hygiene measures in place. We would love for you to continue using our services during this period.
Remote consultations also available
We continue to offer remote consultations (if required) to provide our services without physical interaction.
Read our COVID-19 update for more information.
---
Call 01702 714968 for more information about medical acupuncture and dry needling in Southend-on-Sea. Home visits are available at an extra cost of ONLY £10.